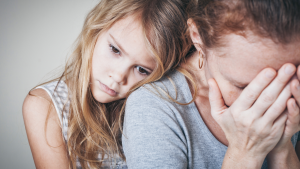 You told yourself you would never do those things to your kids when you became a parent.  You know the hurt and pain those actions cause.  Your own child self hurt from it growing up.  You committed that the hurtful dynamics would STOP with you. Never again and never with your own children.  The very thing you feared is happening. Perhaps you notice yourself doing and saying regretful things out of anger and frustration. You are heartbroken, ashamed and disappointed.  You pelt yourself with "How could you's?!"    Or, perhaps despite your best efforts, you still find yourself in some unbalanced or unhealthy pattern with your kid/s.  You feel lost and confused.  How did this even happen?  Yet, here you are, wondering how to stop this ugly pattern that you tried so hard to avoid.
You have a strong sense of what you DON'T want in your created family.  This is defined by what happened (or did not happen) in your own childhood.  Though you might have tried your best to correct course and create a healthier and new pattern–you find that somehow, you are still deadlocked in a way of being that hurts.  You feel heavy with guilt and like you have failed. You are scared to ask for help.  You are afraid that you are just like your parent.  You hurt so much and worry about what your choices are doing to your kid/s.
Having children can, quite literally, kick up past hurts that you through were resolved.  As an adult, you can re-experience the pain of your past.   This can be extremely overwhelming while you are trying to remain focused on being the best parent you can be.  You second guess all that you do.  You feel sad and angry, trying not to think about those things and yet wondering to yourself, how someone could have done that to you as a child.  You are terrified to repeat the pattern and pass forward that same hurt to your own kids.
I can help.  Parenting From Within was developed for just exactly this.  While helping you to move past your own pain, our work together is also aimed at teaching you the very skills to create that new pattern in your family that you have always envisioned.  I can help you to learn to break the patterns of hurt and provide concrete skill building on what to do differently.  This will help you to feel more in control and more confident in you as a parent.  When you start to see how quickly you can create change and in the direction that you want, you will find great relief and joy.  You can do this and I am here to support you to be successful.
Ready to start? Let's have a meaningful conversation to discuss how I might be of help to you.